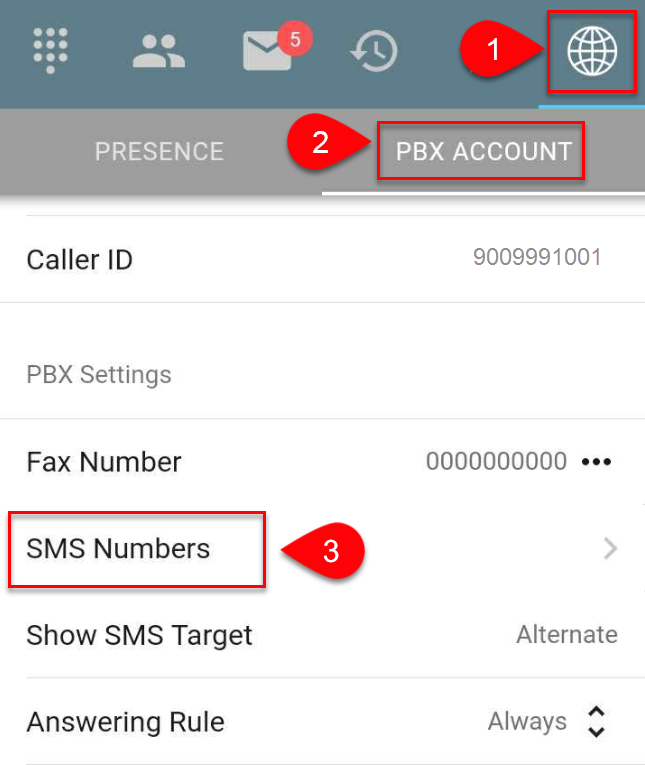 This page has five (6) sections that contain information and settings that are relevant to SMS for ReachUC.  The SMS Numbers page is accessed by following the instructions below:
Go to the PBX Pane of your ReachUC mobile app.

Click on the PBX Account tab.

Click on SMS Numbers to go to the SMS Numbers Page.


Note: If SMS Numbers is not showing in the PBX Account tab please contact your service provider for help.
The Sections in the SMS Numbers Page: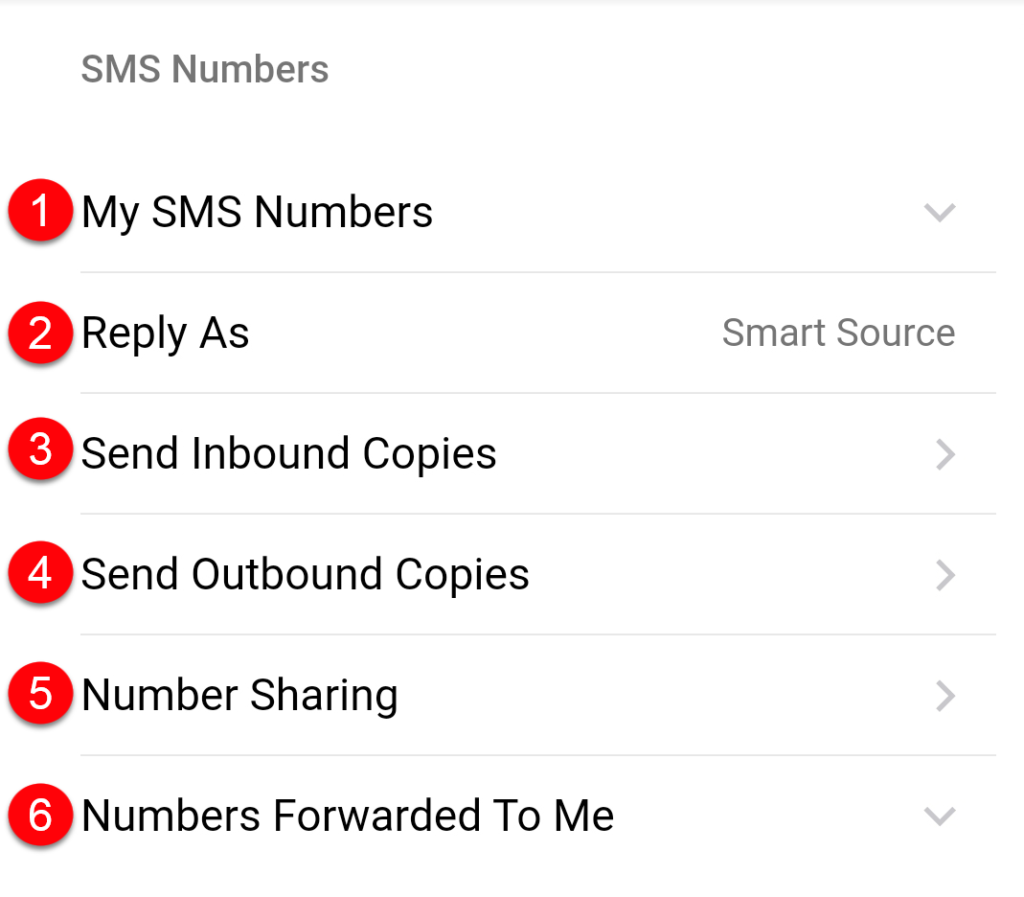 1 – My SMS Numbers
Clicking on My SMS Numbers will show you all the Phone Numbers that are assigned to your PBX User with the SMS Caller ID for your account marked by a Primary icon but, if there is none assigned, it will show the text 'No Number'. To learn more and to know how to change this setting go to the article SMS Caller ID.
2 – Reply As
This shows the behavior of what phone number is used when you reply to messages in ReachUC. Clicking here will show you the choices available with your current setting having a checkmark icon beside it. Clicking on the choice with no checkmark icon will change your setting to the choice you clicked.  The choices are either Primary SMS Number or Smart Source.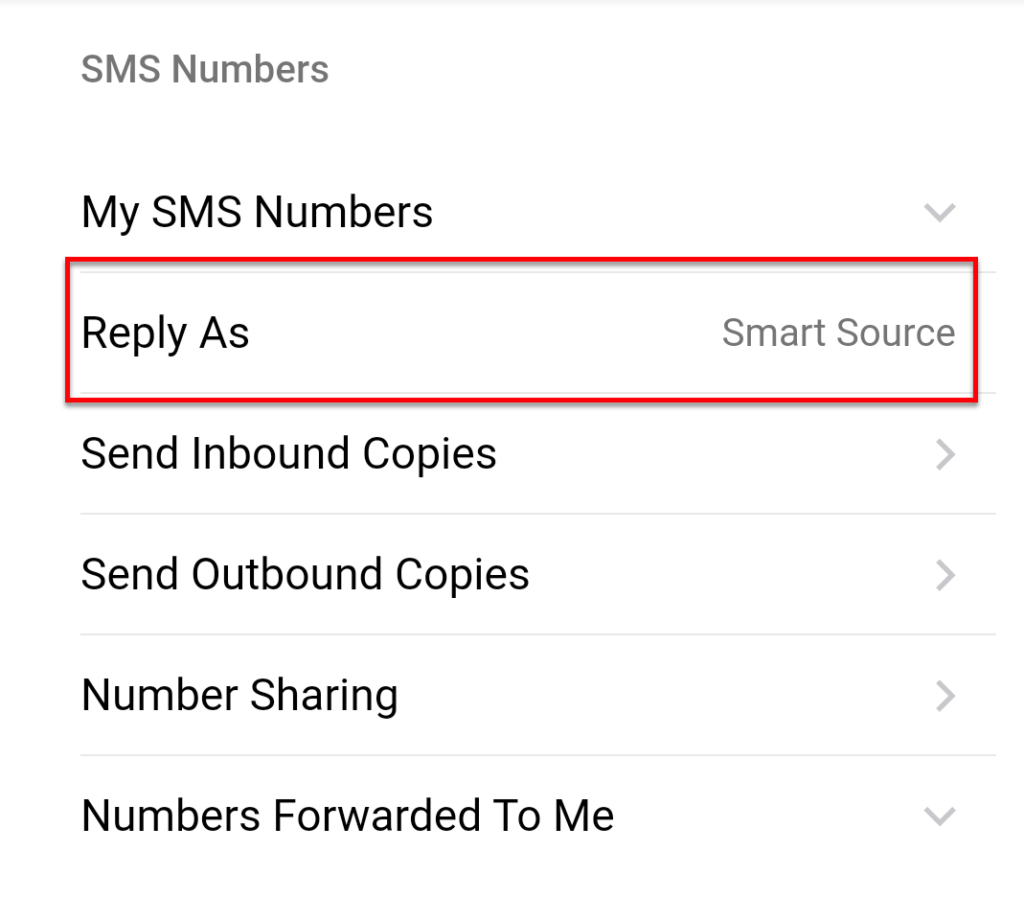 Primary SMS Number is the default setting which if used means that all replies coming from your ReachUC app will use your chosen Primary SMS Number.
Smart Source is the setting that will use the last phone number having a conversation with the recipient, however, if there is none it will use your Primary SMS Number. Note: This settings' behavior will also apply to your WebRTC applications.
3 – Send Inbound Copies
Clicking on Send Inbound Copies will open up the settings for forwarding or sending copies of your incoming messages to another ReachUC User, an Email address, or a URL. To learn more about this go to our article on SMS Copies or Forwarding Options.
4 – Send Outbound Copies
This is similar in functionality and settings to Send Inbound Copies but will apply the settings to any messages you send.
Clicking on Send Outbound Copies will open up the settings for sending copies of your outgoing messages to another ReachUC User, an Email address, or a URL.
5 – Number Sharing
Clicking on Number Sharing will open the page to view the phone numbers that have been shared with you, and also your phone numbers which are available to share with other ReachUC Users, and lastly, any shares that you have set.  SMS Number Sharing is the ability for those who you shared your number with to reply to any message you receive as though they were using your phone number. Please read the article on SMS Number Sharing to learn more.
6 – Numbers Forwarded To Me
If another ReachUC user added you to their Send Copies To list, the phone number(s) assigned to them will reflect in your Number Forwarded To Me section.
Unlike phone numbers shared with you, you cannot use the forwarded number as SMS sender when you reply to SMS messages. The SMS message recipient will see your own phone number as the sender of the SMS message. If you have no SMS-enabled phone number, you will not be able to send replies to messages that are forwarded to you.